PSP (porn station portable) vs. DS (dog shit)
yesterday i took a bite out of the consoles. today i'm going to take a bite out of - you guessed it. the DS and PSP and the gb micro.
there is no doubt who will be victorious in the handheld wars. the winner of the ds vs. psp fight is so overly obvious that if you don't already know the answer, you're a nincompoopy head.
it's of course the
PSP*
let's list again the reasons why the PSP has won and that the ds should roll over and die.**
1. PSP offers 16:9 "high-definition" screen pleasure (the better to watch your porn on)
2. Stores pictures (the better to save your porn pics onto)
3. PS2 games. Who doesn't want ports of PS2 games that we've already played?
4. Internet (too see more porno!)
5. Music (to hear all those moaning sounds that we recorded of ourselves when we were alone)
6. UMD movies (to watch imported japanese pornos!)
7. It's a porn machine galore!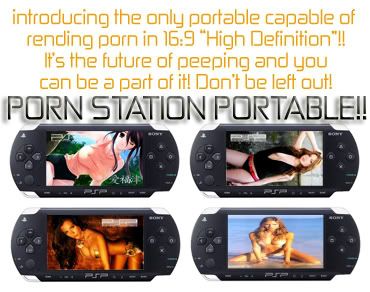 I wish those babes could just out and..and..wait...what?
the ds is just stupid and nintendo should give up. it
is
the next gameboy so iwata should shut his mouth. "third pillar" my ass. notice how nintendo has been so hypocritical these last few months? HD is garbage (but let's make the wii version of zelda HD and make the GCN one not HD)
Pr()N coming to a DS near you!
of course, this is my blog, and it's all based on humor (at least some of the time, most people should know when i'm kidding, being sarcastic and joking) so i could be entirely wrong as these stats pulled off of joystiq.com say otherwise who's winning:
joyswiq stats:
- DS Lite: 141,487 9,460 (7.17%)
- PSP: 24,653 2,997 (13.84%)
- DS: 22,748 21,377 (1559.23%)
- GBA SP: 4,642 526 (12.78%)
- Game Boy Micro: 1,294 360 (21.77%)
- GBA: 20 10 (33.33%)
i deleted all the home consoles and left in only the portable handhelds' stats in.
then i was browsing thru kotaku.com and saw something breath-takingly hilarious:
"Devoted PSP players can explore their passion in complete privacy by using a model specifically designed for the device."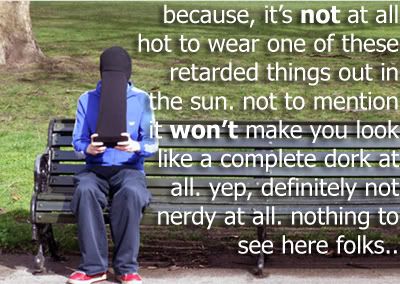 Now that is just funny. Who comes up with this stuff?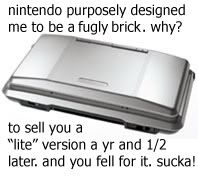 *again, if you really thought i was serious, then you know nothing about the ds vs. psp war.
**i do not watch porn or store porn pics/videos on my PSP. i think it's degrading to women around the world to watch them flail around. a night in paris was bad enough, i'd much rather prefer an intelligent woman who's sexy and beautiful in her own ways. not because of millions of horny men gawking at her breasts or pussy.